TASTING ROOM
Our tasting room is open at 1244 Pine Street at the corner of Pine and 13th in downtown Paso Robles.
The $20 tasting fee is happily waived with the purchase of a bottle of wine.  We are an intimate tasting room, because of that, if you have a group of 6 or more, please let us know you will be coming. We see groups of 10 or more with a pre-paid reservation and before 2:00 p.m. only. Join us for Brunchtime Bubbles on Sunday mornings starting at 10:00 a.m. Cheers!
To book an appointment, please call or text (805) 237-0378 or email info@vinesonthemarycrest.com for details. 
What's Happening
https://www.clubsupsup.com/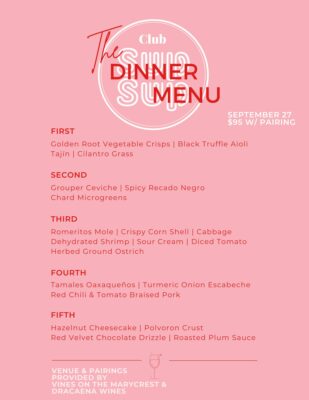 Join us in the downtown tasting room for a special Club SupSup dinner featuring Chef Candice. Tickets may still be available.