TASTING ROOM
Our tasting room is open at 1244 Pine Street at the corner of Pine and 13th in downtown Paso Robles.
The $20 tasting fee is happily waived with the purchase of a bottle of wine.  We are an intimate tasting room, because of that, if you have a group of 6 or more, please let us know you will be coming. We see groups of 10 or more with a pre-paid reservation and before 2:00 p.m. only. Join us for Brunchtime Bubbles on Sunday mornings starting at 10:00 a.m. Cheers!
To book an appointment, please call or text (805) 237-0378 or email info@vinesonthemarycrest.com for details. 
What's Happening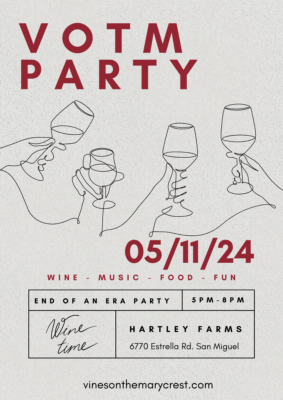 Vines on the Marycrest wines will be flowing, Trattoria di Luca will be slinging pizzas straight out of the oven, the sound of The Big Sirs of Swing will waft as we celebrate the good times. This is the end of an era for us. Bittersweet for sure, but let's make it fun!
This event is open to active In Crowd members only.